T7 Architecture Earns Coveted Golden Nugget Honors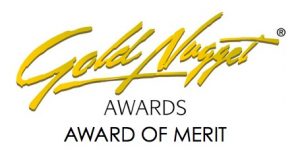 Solana Beach, CA, 5/22/2019 — Judges for the 2019 Gold Nugget Awards have named T7 Architecture, Inc. as an Award of Merit winner in its annual competition, which honors architectural design and planning excellence and draws entries from throughout the United States and internationally. T7 Architecture, Inc. earned its Merit honors for 3 on Cedros, which was honored for 2019 Award of Merit Honorees.
Chosen from the elite pool of Merit Award winners, Grand Awards will be announced on May 31 as a feature highlight of PCBC®, the nation's largest regional conference and trade show for the real estate development field.
Located in the Cedros Design District of Solana Beach, California '3 on Cedros' began as a vacant lot prime for an infill development project. The scale and mass of the multi-family development reflects one of a detached single-family residence. The overall building design mirrors the artistic and invigorating neighborhood context which takes full advantage of the modern coastal lifestyle. The resulting design, per unit, was a grouping of three stepped floor structures with the lowest level connecting to private rear yards, a public middle level for living and entertaining, and an upper level master suite and view deck. The floor plans are an open plan design with upscale interior finishes and large sliding doors oriented west to capture the prevailing cooling coastal breezes. To promote community, the front yard is designed as a gathering opportunity with shared garden boxes located among a drought tolerant landscape.
Please email admin@t7architecture.com for additional details on T7 Architecture's Merit Award project.
"Gold Nugget Award winners reflect our industry's best, brightest and most innovative architects, planners and builder/developers," said Judging Chairman and Gold Nugget ceremonies administrator Lisa Parrish. "We applaud them all, and we look forward to our May 31 celebration of Merit and Grand Award winners."
Now in its 56th year, GNA is the largest and most prestigious competition of its kind in the nation. It honors design and planning achievements in community and home design, green-built housing, site planning, commercial, retail, mixed-use development and specialty housing categories. Winners this year were chosen from over 600 entries from around the world.
Gold Nugget Awards — Recognizing those who improve our communities through exceptional concepts in design, planning and development.
See the Gold Nugget Awards website, Category 41 https://www.pcbc.com/PCBC/CUSTOM/images/show/2019/GNA/Gold-Nugget-2019-Award-of-Merit-Honorees.pdf